With gentle movements
to a mental well-being.

During pregnancy, the female body changes in many ways. Due to the hormonal and physical changes, many women lose their natural tone. In general, Pilates training is a wonderful support for birth preparation as well as suitable for regression.
Especially in the last trimester of pregnancy, when the body's center of gravity shifts further and further forward due to the rapidly growing baby bump, the spine also shifts. Pilates can provide relief.
It not only strengthens the pelvic-lumbar region but also ensures strong pelvic floor muscles. This not only promotes an upright posture, but also supports the internal organs and offers the unborn baby a kind of trampoline, because it gently cushions all shocks.


Pilates is ideal
during pregnancy
and gets your
circulation going.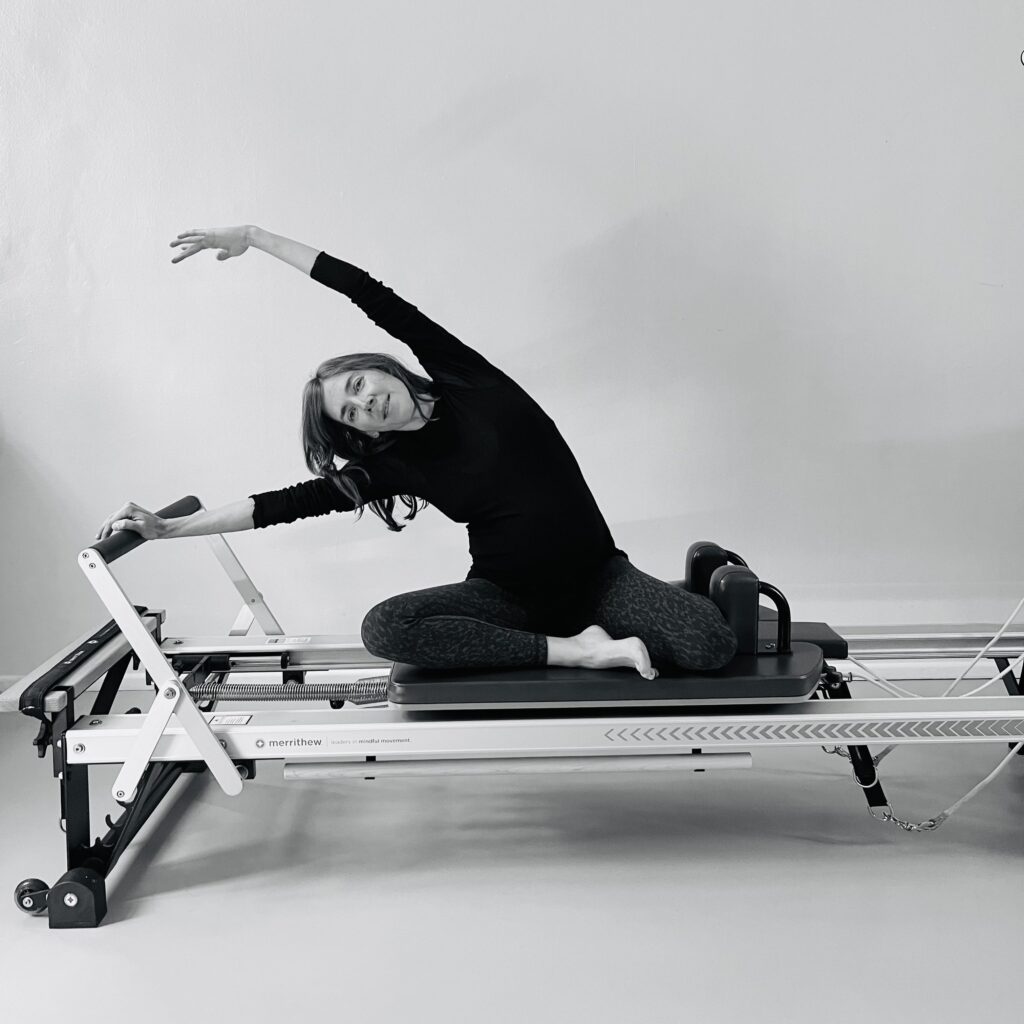 Pilates Equipment Training
during pregnancy
Nothing stands in the way of regular Pilates equipment training during pregnancy.
In general, Pilates Reformer Training pre- and postnatally ensures a secure, centered body feeling. The exercises are generally performed more carefully and more slowly. The entire musculature, especially the back and pelvic floor, is strengthened and stretched. It is therefore ideal for the prevention of back pain and tension.
Likewise, Tower Unit Training and other Pilates equipment like Wunda Chair supports the female body during these transformative times by strengthening and providing balance. Modifications to the exercises here address the unique circumstances, making the workout gentler and much easier. Spring resistance is used here with a focus on stretching to create length throughout the body. Especially hip flexors and glutes are usually severely shortened during these circumstances.
In general, all exercises that specifically target the straight abdominal muscles are avoided. The often expressed opinion that a well-trained pelvic floor and abdominal muscles could lead to a more difficult delivery has long been scientifically disproved. On the contrary, the ways of tensing and relaxing learned through Pilates training are of great benefit too many women during childbirth. A regular sports program during pregnancy therefore not only makes the nine months more pleasant on its own. But also positively influences fitness and stamina in view of the birth and the period of regeneration and involution.

The positive effects through
Pilates during pregnancy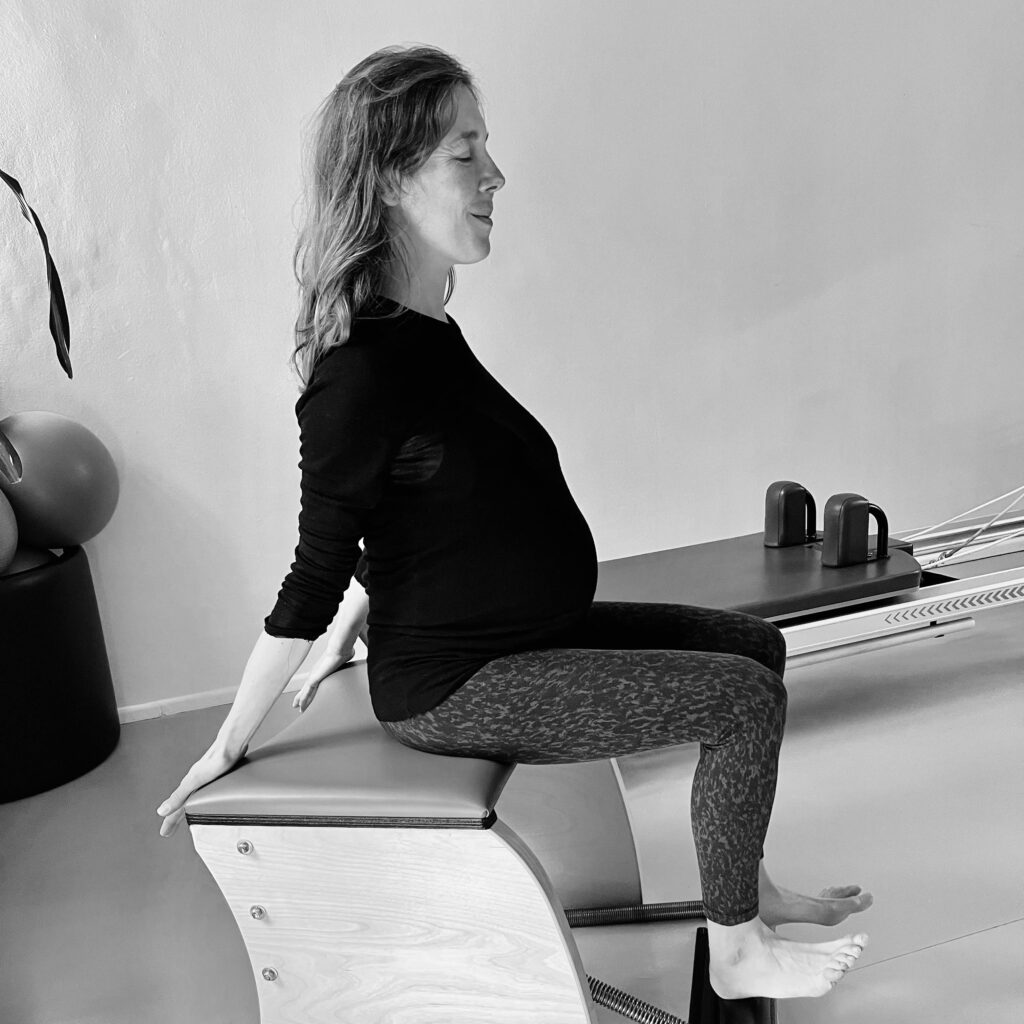 "With Pilates I gained inner balance during my pregnancy. I've enjoyed every single solo session, as I was able to stretch, strengthen and consciously perceive my body. It helped me so much."
Pelvic floor
The pelvic floor receives special attention during Pilates training, because a trained pelvic floor heals faster after birth. The risk of suffering from bladder weakness or incontinence later on is reduced.
Back muscles
As the baby bump grows, the center of gravity shifts further and further forward. This often leads to a hollow back and back pain. The great thing about Pilates training is that you train the deep muscles of the upper body to relieve the back.
Stretching and breathing
The body goes through pregnancy in constant processes of change. Again and again, it adapts to make room for the growing baby. This makes some of the muscles, tendons and ligaments tired, tight and shortened. Pilates helps to counteract this. Many stretching exercises are incorporated so that the client feels free in her body and can breathe better. Among other things, mobility becomes easier and the body can better adapt to the change.
Relaxation
Pilates relaxes and helps deep breathing – a clear advantage for birth.

REALZ
recommendation!
We recommend that clients train solo or duo during pregnancy in order to achieve the best possible body feeling. Especially during pregnancy the body changes and needs more attention. Therefore, the exercises should also be coordinated.
For Pilates trained and very athletic women, a group lesson stand nothing in the way. But this should always be discussed with the Pilates teacher to counteract certain injuries and also to incorporate any modifications in the exercise routine.
As a general rule, at the first signs of irregularities, such as discomfort, pain or even bleeding, you must stop training immediately and consult a doctor if necessary.
You are curious? Here you can see all the offers for solo, duo and group classes at our studio REALZ Pilates, Berlin.