My first Pilates class for beginner
New customer report from
Laura Kleber
And then suddenly everything inside of me goes quiet. My eyes are closed, I deliberately breathe in and out deeply, synchronizing breath and gentle arm movements, following the Pilates teachers instructions.
My week has been exhausting and I was rushing myself through Berlin on my way to the studio. Now that I'm here in my Pilates for beginners class, I let go and settle in. I realise how tensed up my belly feels. But then, through the open windows, I hear the gentle summer rain lapping in the quiet backyard. And it is clear to me: it was a very good idea to come here to my first Pilates for beginners class.
Ever since an acquaintance gushed about her Reformer training classes – flowing motion, mindful breathing, enhanced body awareness – I really wanted to try out Pilates. Up to this point, my perception of Pilates had been very vague. I didn't even know that Pilates has not just mat training, but also includes a range of exercise equipment – of which one is the so-called Reformer.




My first Pilates beginner
class was really fun!
A new customer report
from Laura Kleber.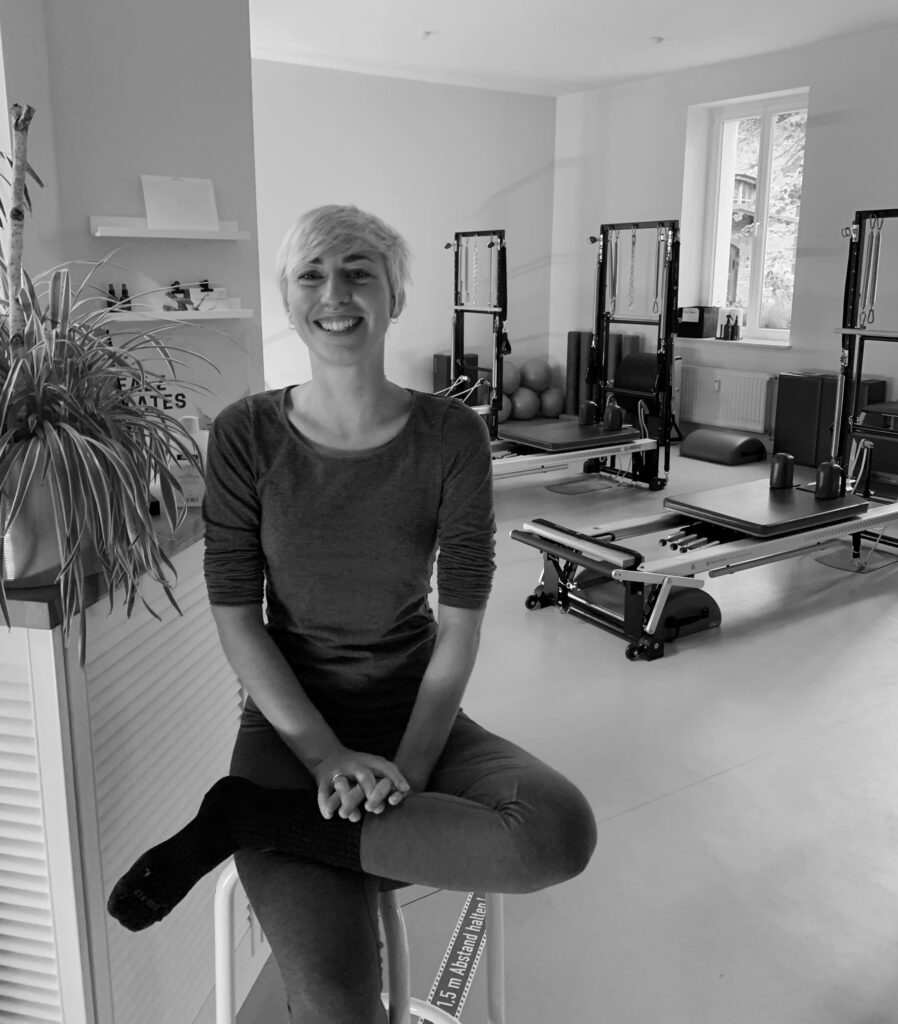 Reformer training in
Pilates for beginners
After finishing the short relaxing sequence, this Reformer is exactly the device that we're turning to right now. As it's a Pilates for beginners class, everyone is looking slightly intimidated by the amount of unknown loops, springs and bars of the Reformer. But then the teacher makes us all feel at ease by explaining all required adjustments calmly and precisely before each sequence. And off we go! I lay on my back, knees bent, my heels on the bar at the foot of the device in a V shape.
Following my teachers instructions, I push my upper body away from my feet and then attentively move back to starting position. I can feel the pull of the springs, the way they challenge and strengthen my leg and belly muscles. A long forgotten memory of my early ballet classes flashes through my mind – "Plié!" – because that's exactly the movement we're doing here. Just horizontally and with more strain. I immediately understand why Pilates is so popular among dancers as complementary training.
At the same time, Pilates is an ideal full body training for all ages and exercise levels as the spring resistance makes it simultaneously challenging but not straining. The pull of the adjustable springs makes each movement feel healthy, strong and satisfying. Paired with the synchronised, mindful breathing and the aesthetic amenities, this Pilates for beginners class is a true time-out for me and my body. All while strengthening and stabilising my core.
Pilates for beginners:
new client special offer
To try out Pilates for beginners, I booked the new client offer. It contains three Pilates for beginners classes, which in hindsight made total sense. A single trial class could not have shown me what Pilates was all about. The two class units that followed my first one made me more and more familiar with the Reformer, the adjustment of the springs and the synchronised breathing. Each progressing class made me focus better on my body and enjoy the flowing movements more and more.
I chose the new client group ticket which made me train in small groups of 3-5 people. As I have a Yoga background, this turned out to be just perfect for me. For more individual guidance in a Pilates for beginners class or for people with physical limitations, I can recommend the new client solo ticket. You can easily book your appointments with the online planner or via e-mail – which is perfect for night owls like me.
After this experience I definitely want to continue my Pilates for beginners class. Needless to say that I recommended it to everyone. Partner has backpain? Try Pilates! Mom wants to work out, but struggles with arthritis? Try Pilates! Friend has a broken heart? Try Pilates!
Interested in Pilates for beginners?
Try it out!
If you want to try out Pilates for beginners, you really don't need much. You can train in Yoga pants or any other clothes that are comfortable and flexible. Just grab a pair of socks (if you don't want to train barefoot) and something to drink and you're good to go for your first Pilates for beginners class!
Curious to try out Pilates for beginners? Check out the new client offer!