10 Reasons Why You Should Start Pilates Right NOW!


With Pilates you get to know your body even better. Anyone who loves movement is welcome here.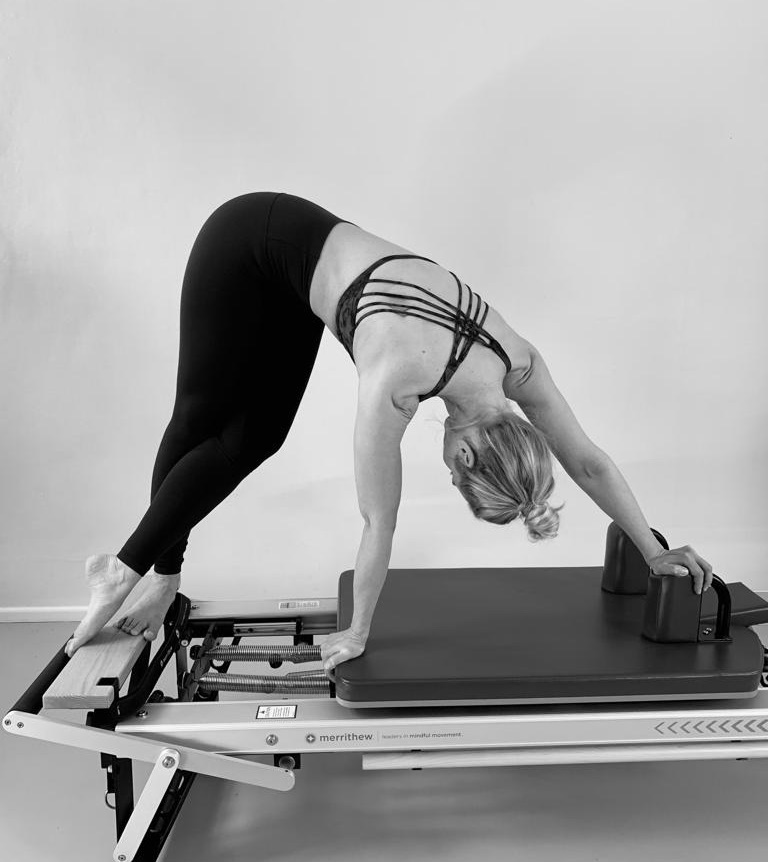 Find out the top 10 reasons,
why now is the right time to start with Pilates.
1. Increase your overall fitness
Absolutely, Pilates increases overall fitness and improves your mobility. The famous quote from Joseph H. Pilates: "After 10 hours you feel it. After 20 hours you see it. And after 30 hours you have a whole new body". Is the whole secret of Pilates. Those who practice Pilates regularly always confirm this statement. It not only supports your overall fitness, it also gives you a deep, stable foundation. In Pilates training, you focus on your deep muscles, so over time your entire body becomes more defined and strengthened from the inside out.
2. Strengthen your physical well-being
Pilates gives you a good feeling of your well-being for the entire day. The workout is intense but it gives you a positive feeling of length and strength throughout your whole body. Not only that, also your muscles will be activated in depth and your posture will be straightened. So you develop your well-being in the long run. To see and feel your results it is recommended to exercise twice a week.
3. Promote concentration and coordination
Because of the focus, the brain and muscles learn to perform complex movements during the Pilates training. You can also say that the brain get's trained as well. You learn not only to coordinate better, but also to react faster. The numerous, alternating coordination exercises stimulate your grey cells to the same extent. They not only refresh your mind, additionally they increase your ability to concentrate.
4. Improves sleep quality
Absolutely! Pilates helps your body to regulate your rest. You breathe deeper and more consciously. This stimulates your blood circulation and incidentally strengthens your immune system. Even today's science already proves this in many studies, that regular, sportive activities improve our sleep quality. A precise Pilates workout brings oxygen into your cells and let you rest well at night.
5. Posture improvement
Have you ever observed your sitting posture, shoulders bent forward or pelvis hollowed when standing? Many people nowadays find it difficult to sit up straight or stand upright. Poor posture makes the body sick in the long run. The Pilates training supports you throughout fine and specific exercises to get you back into a healthy body alignment. The training is demanding, but the result is a complete success and let you grow completely.

Pilates is suitable for all people of any age who want to maintain or restore their flexibility of the body.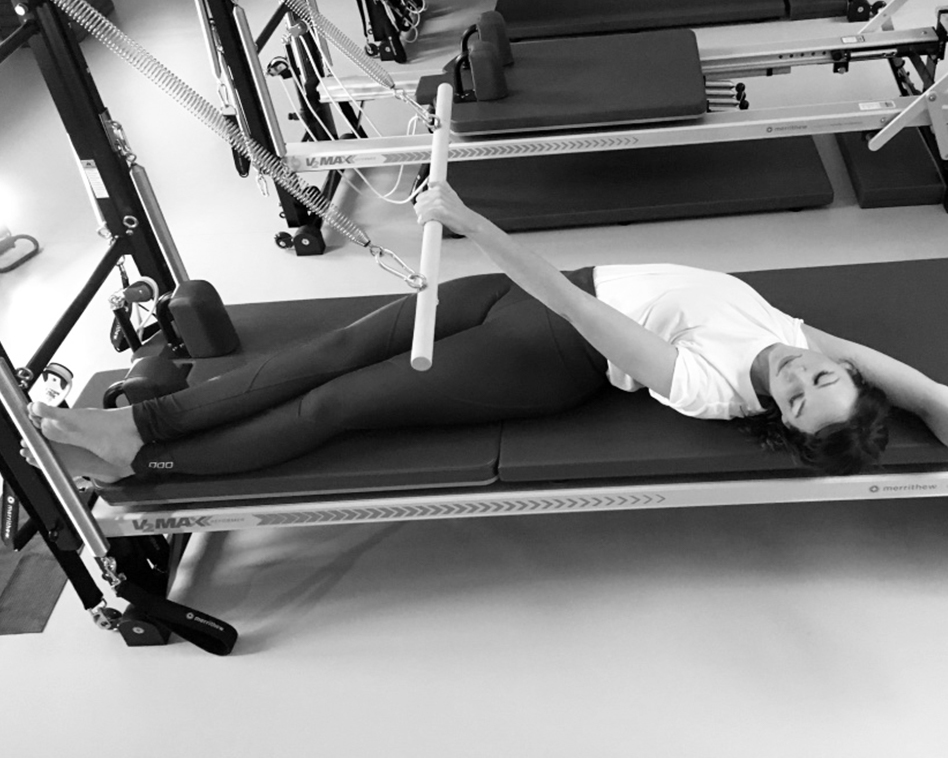 6. Stress relief
People with stressful jobs in a bustling city are looking for balance and ways to improve their fitness throughout their everyday life and routines. With Pilates you can support to find your inner balance. Through the conscious bodywork you are called to stay clearly align with yourself. To focus on the movement sequences and to follow the course of the session. In doing so, you automatically switch off from your stressful everyday life and arrive at your own so called "Power House".
7. Improvement of movement
Anyone who sits for a long time or adopts a one-sided, standing posture will notice over time that their body loses mobility. Even the smallest everyday movements hurt or become more difficult.
Pilates can take you back to your mobility and vitality. Our fasciae also called connective tissue, play an important role within our body. They are the universal material that permeates our entire body. Envelops all organs, muscles and bones to gives us the shape and structure. Specific Pilates exercises provide more suppleness and elegance in our body and promote the flow of movement. With a regular Pilates workout you maintain and support your entire musculoskeletal system into old age.
8. Relief of diseases and pain
Pilates does not only work when you are already tormented by physical pain. Pilates training is used especially preventively. This means that illnesses or problems with the musculoskeletal system can be prevented in the first place through the regular performance of Pilates exercises.
If physical limitations are present, Pilates is always a good approach to individualize one's health through Solo or Duo classes . In addition, a regular Pilates training prevents injuries and supports rehabilitation in their healing process.
9. Deceleration for body, mind and soul
Pilates is often compared to yoga, another way of slowing down. However, in Pilates training very controlled and conscious movements are performed during special Pilates equipment or Pilates mat classes, not to be compared with yoga. Through the power and resistance of the springs and the combination of deep breathing, also called our Power House, you physically enter into a conscious awareness. This is what makes it so exciting and gives you positive wonder and relaxation at the same time.
Of course, overall a welcoming atmoshpere support to feel good. Therefore, we consciously pursue a very minimal concept with our studio REALZ Pilates. The loft-like, designed studio combines the urban lifestyle. Here you can treat yourself to a short, effective break from everyday life to keep yourself preventively healthy and happy.
10. Pilates for eternal youth


Who is stiff and immobile in his 30s looks old. Who is elastic and strong in his 60s looks young."
Joseph H. Pilates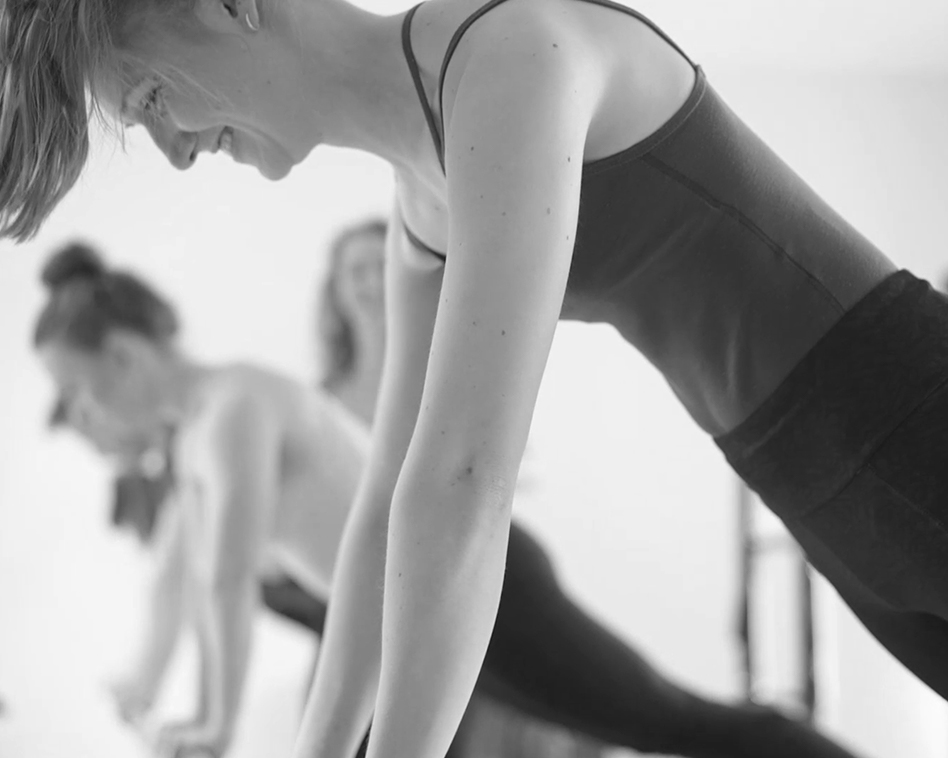 Pilates is suitable for all people, at any age, who want to restore or maintain the flexibility of their body. The exercises are performed calmly and with concentration, so that everyone can do them. Since it is a precise and concentrated whole-body workout, neither high demands nor previous experience are required.
Pilates keeps you young and fresh. The body will thank you with a healthy strong appearance and a great charisma. Remember, it is never too late to start with Pilates – just try it out!